My dearest Husband,
Today is a special day. Today we add another milestone to our spiral that we call life—we turn 9 today. Nine years ago I asked you to visit the zoo with me and it was there that you asked me to be your girlfriend, right in from of the jaguars, remember? It was the then the initial start of our lives together.
Last week was our (on the 8th) was our seventh year as a married couple. Sometimes we joke about it and say, "And all we have to show for it is one child."  Actually, I think we did right in waiting so long to have our child. We were able to embrace ourselves and be selfish for a few years (since our courting years were short.) Many people who hear our story of how we got engaged (on a hot air balloon ride) after only being boyfriend-girlfriend for a year and then married the year after think we were insane yet awesome. I think we were a little of both. It was right for you and I. We were eager to be together—always.
We have had many, many, many ups and downs and with each turn, you have held my hand to calm me down. Life knows that I get crazy when life gets crazy.  We have also had many tests where many people would fail, but we keep pulling through and I am amazed each time.
Regardless of how many unexpected turns life throws at us, I know that we will make it through—holding hands and all.
Pinky Promise,
Your Wife—Analilia <3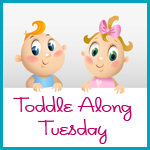 This also goes with Toddle Along Tuesday over at Growing Up Geeky